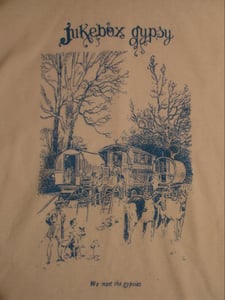 €

12.99
WE ARE SORRY BUT THESE ARE NOW SOLD OUT. WE HOPE TO PRINT SOME MORE IN THE VERY NEAR FUTURE. PLEASE STAY POSTED ON OUR WEBSITE OR FACEBOOK FOR UPDATES. THANKS, JG.
----------------------------------------------------------
Jukebox Gypsy band shirts!
Each one has been hand printed by Isaac Tabor and Agustina Balcarce in New Orleans and Barcelona.
Not that many will be made so be sure to get your hands on these before they're gone!
The T-shirts are printed with blue and yellow ink on white, black and red shirts. You can put your own color combo together and we'll print it up for you.
Only available in men's sizes at the moment.
Please use the drop-down menu below to specify which color and size you'd like.
Thanks!